Vacuum lifting equipment
RENT CONSULTATIONS SALES
SIA Arvac
Ziedu iela 8, Priezciems
Babites pag., LV-2101

Mobile: +371 266 191 22
Mobile: +371 266 195 77
E-mail: info@arvac.lv

Reg. Nr: 40003978054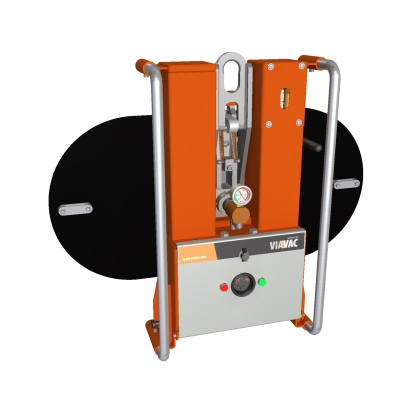 Lifting a 12m and 400kg sendwich panel is not a problem any more.

Equipment that increases your efficiency, does not scratch the surface and improves work quality. We are offering you to rent or buy vacuum lifting unit CB400 that will make roof and wall panel cladding easy. It is applicable for roof and wall sandwich panel cladding, structural roof decking installation, and large size panel installation.
Self weight - 125kg, Lifting capacity - 400kg, simple to use.

Double safety - low vacuum warning signal and safety belts.

Battery charging over night. Possible to install up to 120 panels with one charge.

Applicable for lifting of all kinds and thickness surfaces with up to 5mm deep profilation.

Ready for lifting objects in 10 seconds.

Easy extendable traverse. Panel length is not limited.

Convenient handles.

Rubber seal does not damage surface.

Object can be tilted up to 90 degrees.

If you want to do cladding in good quality and fast, we will be happy to help.